Sacha Lichine: Producer of the World's Most Acclaimed Rosé Wines
Rosé has of late become something of the wunderkind for everyone.
This intriguing wine can be produced from anything from Pinot Gris to Cabernet Franc. However the true spiritual home of this luscious pink beast is Provence, and when it comes to Provence, one name is above all others – Sacha Lichine. In particular, Caves d'Esclans Whispering Angel…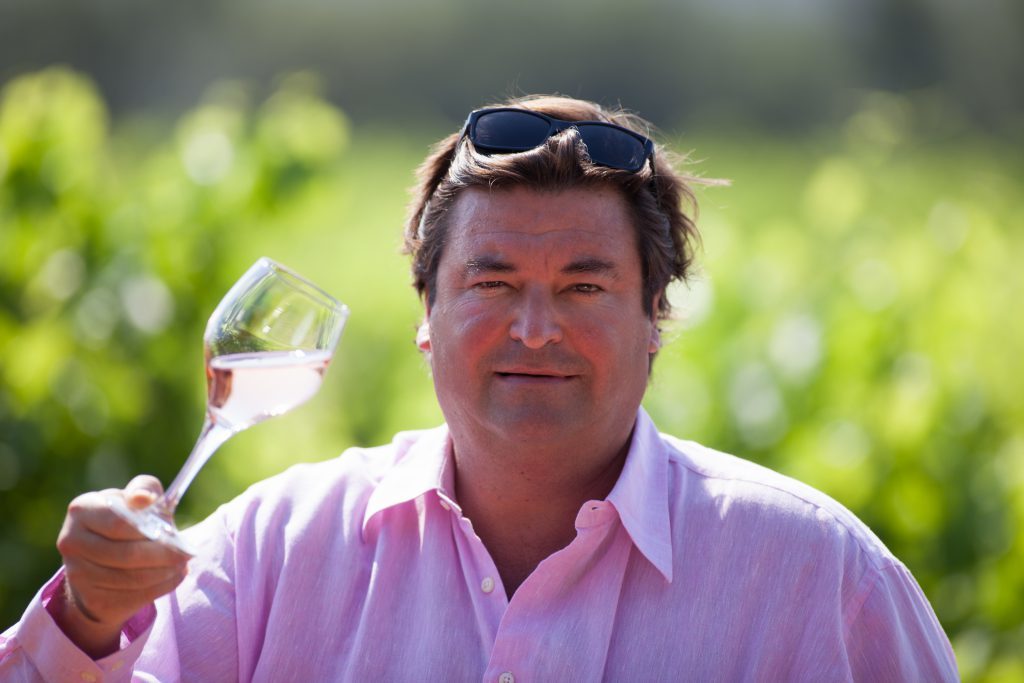 Sacha Lichine was born in Bordeaux and educated in the U.S., and has worked in every aspect of the Wine industry from production to final sale. He began working at his family's former properties, Chateau Prieure Lichine and Chateau Lascombes during the summers of his youth from working the vines to dressing and selling the final product in the estates' retail shops.
Sacha subsequently established, at the University level in America, a summertime job, between 1978 and 1982; Sacha Lichine International which was a luxury wine tour business to France for educationally hungry Americans that consisted of 3 week immersion trips through all major wine villages and appellations in France. He also worked at Anthony's Pier 4 Restaurant in Boston as a Sommelier between 1979 and 1982. Following this job, Sacha worked as a Salesperson and Buyer at C. Pappas & Company, a wine wholesaler/ distributor in Massachusetts between 1982 and 1983. In 1983 Sacha formed 2 ventures; Sacha Lichine Estate Selections focussing on Estates
& Domaines from the Rhone to Burgundy whose wines were then sold to Distributors throughout America. A defining moment in Sacha's career came about in 1987 when he started running Prieure Lichine at age 27. Additionally, Sacha worked with his father Alexis Lichine to update the renowned Encyclopedia of Wines & Spirits.
In 1990 Sacha started a negociant business in Margaux, Borvin, which he still operates focusing on selecting the best wines from Bordeaux and the south of France and in 1992 Sacha became a Negociant in Burgundy forming Sacha Lichine & Associates. Recognizing the importance of innovation in an increasingly varied wine industry around the world, Sacha developed a line of new world wines from France, Sacha Lichine International/ Vins Sans Frontiers which has roots in the selection of small Domaines, Vins de Pays and Burgundian wines under his name and distributed by the wine company Borvin Sacha Lichine International.
A pivotal moment for Sacha was his 2006 acquisition of Chateau d'Esclans in Provence. In keeping with his uncanny sense of innovation, Sacha felt that Rosé had strong developmental opportunities to become more serious from a production standpoint in addition to being served and consumed more broadly. The result to this foresight energized by an abiding passion for making and promoting great wine has resulted in building a world-class brand, Whispering Angel, Chateau d'Esclans Rock Angel, Chateau d'Esclans Les Clans and Chateau d'Esclans Garrus while providing a strong contribution to unprecedented growth within the Rosé category.
However, this kingpin of all of things pink has more arrows in his quiver – along with his stunning range from Provence Sacha also has another sub-brand Sacha Lichine Selection. For this, he painstakingly sources the best grapes from throughout France to bring you some truly exquisite blends.
For More On Sacha's Wines Please See Below
---

2016  Whispering Angel Rosé
"Caves D'Esclans Identifies Vineyards, Grapes & Wines From Château D'Esclans as well as Local Growers to Make What Has Reputedly Become The World's Greatest Rosé."
2016 Sacha Lichine Single Blend Rosé
"New and noteworthy – Sacha Lichine Selection wines are Vin de France and crafted for today's contemporary wine consumer."
2016 Sacha Lichine Le Poussin Rosé
"Sacha Lichines acquisition of Chateau d'Esclans in Provence has resulted in building a world-class brand while providing a strong contribution to unprecedented growth within the Rosé category."